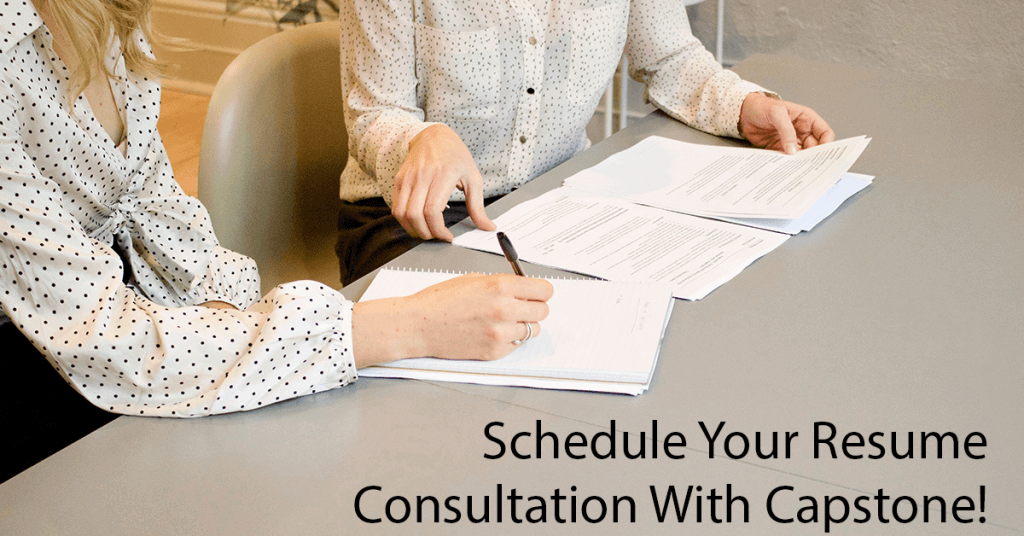 Your resume is usually the first thing potential employers look at when evaluating your application, and it's a crucial piece to have during the job searching process. In addition, LinkedIn profiles are becoming increasingly popular tools for professionals to network and showcase their job skills.
Whether you're looking for an entry-level position or are someone with more experience, a resume consultation can help you create an impressionable resume or LinkedIn profile.
Document Your Job Skills and Experiences Effectively
Knowing how to effectively talk about your job skills and experiences is key when job searching. Many people just need the opportunity to interview with a prospective employer to sell themselves. Nevertheless, you may have trouble expressing your professional achievements in a written format.
Some candidates turn to resume templates — also called "cookie-cutter" resumes — to help them with their resume writing. Unfortunately, this is a big mistake. Not only are these templates boring but they also offer no guidance on presenting the unique value that you bring to the table. 
Scheduling a resume consultation with Capstone Resume Services can help you create the well-written resume you need to stand out with potential employers. Capstone focuses on a consultative approach with its clients instead of just focusing on churning out projects. When you have a consultation with Capstone, you can talk about your experiences freely and leave it to one of our certified resume writers to create your optimized resume.  
Include All Your Achievements and Innovations
As an aspiring professional, you may possess a wide array of job skills that employers desire. However, your current resume may not include the full spectrum of this important information. This could be leading you to miss out on many great job opportunities.
Prospective employers tend to focus on resumes that showcase a candidate's achievements and personal approach to their work. Career achievements and innovations can demonstrate important strengths including problem-solving and leadership. 
Capstone Resume Services can help you create a unique resume that fully demonstrates your skills and abilities. With its consultative approach, a resume consultation with Capstone will assist you in communicating the full range of your accomplishments and defining your personal brand. 
Choosing the Right Company for a Resume Consultation
Even if you realize that you need a resume consultation for your resume or LinkedIn profile, you may be wondering how to go about selecting a resume service company. There are many companies to choose from, and it can be difficult to determine which ones are the best, and unfortunately, it can be very easy to end up working with a company that provides mediocre results for its clients.
In spite of claiming to offer professional services, most resume services companies operate using a product-based business model. Many of them won't arrange a phone call between the writer and the client and will simply rearrange words in a different format to create a "new" resume.
Unlike most of the competition, Capstone Resume Services not only provides professional services but also takes the time to talk to you even before you make any payments. 
Effectively Communicate Your Unique Mindset and Attributes
As anyone with a little bit of job hunting experience knows, employers want to know what value a candidate brings to the table. Your resume or LinkedIn profile should be thought of as a value proposition. 
You are unique, and your resume should reflect that. Having a resume that emphasizes your special skills and abilities can help you to stand out as a candidate. If you just use a template for your resume writing, it will be very difficult to convey this important information.
Arranging a resume consultation with Capstone Resume Services will help you create a resume that properly demonstrates your value. Capstone will help you understand your unique approach to your work, as everyone works differently. This will also provide its writers with more insight into how your diverse mindset and attributes help set you apart from other job candidates.
Craft the Perfect Resume or LinkedIn Profile With Capstone
Resume consultations are very important. A well-written resume will lead to more interview opportunities for rewarding positions and careers.
Whether you are creating your very first resume or you have an old LinkedIn profile in need of an update, Capstone Resume Services has the help you need to meet your career goals. To schedule a resume consultation, contact Capstone today by calling at 650-445-5301 or request a consultation on our website.