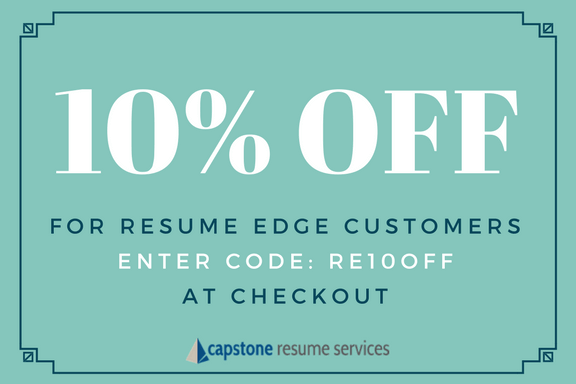 ResumeEdge has been a major name in the resume services industry since they began in 1998, writing over 100,000 resumes. They recently announced they will be shutting down and will only continue serving current customers through March 10, 2017. We have the utmost respect for ResumeEdge and are sad to hear they are closing down.
If you were a long-time customer of ResumeEdge, we understand that this may be a bit of a shock for you. Who are you going to go to for new resumes in the future? How will you be sure you can get the same quality resume you have been over the years? Don't worry, there's an alternative to ResumeEdge! Capstone Resume Services is offering 10% off all of our resume writing services to current ResumeEdge customers.
Capstone has been serving professionals across the country since we began in 2003. Our founder, Amy Gies, actually began her career with ResumeEdge in the early 2000s, meaning you can be sure you'll receive the same quality and service at Capstone Resumes. Because Amy learned a lot about resume writing with ResumeEdge, she brought a lot of those same techniques with her to Capstone.
Our Certified Professional Resume Writers have over 75 years of combined resume services experience and have written over 7,000 resumes. At Capstone, we start the resume writing process with a one-on-one resume consultation where we learn about your career goals, work experiences, and accomplishments. We make sure to understand who you are and define your professional brand in order to match your resume to your goals.
After the initial consultation, we will send your new resume within 2-3 days, in both .doc and .pdf formats. We also include one round of revisions if needed.
Capstone Resume Services offers the same services as ResumeEdge, including entry-level resumes (3 years experience or less), professional resumes (3+ years experience), and executive resumes. We also break up resumes by type of industry, such as:
Technical Resumes
Federal Resumes
Technology Management Resumes
In addition to resume writing, we also offer additional resume services:
Cover Letting Writing
Executive Biography Writing
KSA Help
Academic CV Writing
LinkedIn Profile Creation
Advanced Resume Distribution
Outplacement Services
Capstone Resume Services has partnered with a variety of major corporations over the years. The following trusted brands trust us: Dell, Microsoft, Slate Advisers, Wells Fargo, and Genentech.
Don't just take our word for it, take a look at our client reviews to read some of our success stories.
If you're a ResumeEdge customer who is searching for a new resume writing company, contact Capstone Resume Services today to take advantage of this special offer! To use the discount, simply enter coupon code re10off at checkout.